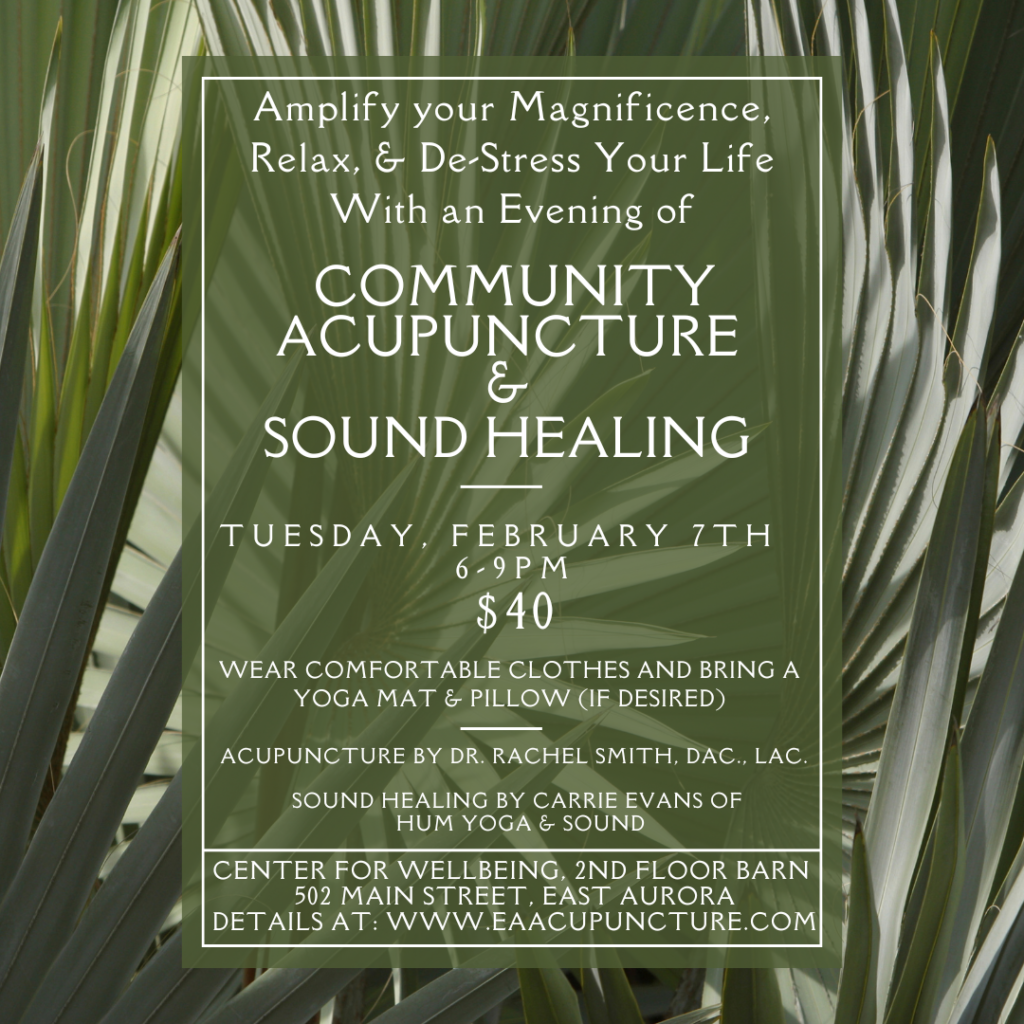 We are excited to announce that we have partnered with Carrie Evans of HUM Yoga & Sound to offer the public Community Acupuncture & Sound Healing.
The first event will be February 7th 2023 from 6-9pm.
Where is this event located? The event is located at East Aurora Acupuncture & Center for Wellbeing, located at 502 Main Street, East Aurora. It will be on the second floor of the barn in the rear of the property. Parking lot is first come, first serve, but street parking is also available.
What should I expect? The Community Acupuncture offered will entail multiple people getting acupuncture treatments in an open space. At the same time, Carrie will be playing crystal singing bowls and gongs for a complete sound immersion experience. You may stay as long or as short as you'd like. We will have a few zero gravity chairs, yoga mats, bolsters, and blankets that will be first come, first serve. You are encouraged to bring a yoga mat/pillow for your comfort (if the provided items are all in use).

What will the acupuncture treat? The acupuncture treatment is great for general stress, relaxation and wellbeing! ✨
Do I have to stay the entire 3 hours? No! You can come at whatever time is convenient for you. Some people like to keep their stay short (20 minutes) while others enjoying relaxing for over an hour.
What should I wear? Comfortable clothing. You will not need to undress for receiving community acupuncture.
How do I sign up? You just need to show up! There is no sign up necessary. You are welcome to arrive at time between 6-8:15pm. While the event lasts until 9pm, an arrival of 8:15 ensures you will be able to receive your treatment and have enough time to relax!
Do I need to bring anything? Bring a friend! And while it isn't imperative, you may wish to bring your own yoga mat/pillow. Comfortable clothes are recommended. We have a water cooler as well.
How much is the event, and how do I pay? The cost is $40/person. This is whether you stay for 15 minutes or 90 minutes. We will accept cash or credit card payment at the door.